DITA 101: Fundamentals of DITA for Authors and Managers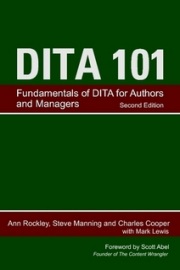 If you're in the process of implementing DITA, expect to do so in the future, or just want to learn more about it without having to wade through technical specifications, this is the book for you.
DITA 101 is designed for authors and managers. We've taken our years' of experience helping organizations to move to DITA and training our clients in creating DITA content and distilled it into an easy to read and understand format. Combined with our expertise in developing effective reuse strategies and adopting content management, this book covers everything you need to know to understand DITA from an authors or managers viewpoint.
Now available at Lulu.com! Click here to order!
Not sure? Want a peek inside? Click here to get a copy of Chapter 3, Reuse: Today's best practice. Please note that this requires Acrobat Reader 6.0 or later.
What you'll find inside...
What is DITA? explains what DITA is.
The value of structure in content explains how to analyze content for structure, and uses recipes to illustrates the concepts of structure and structured writing.
Reuse: Today's best practice presents the benefits of reuse and provides an understanding of all the types of reuse that DITA supports.
Topics and maps takes you through the building blocks of DITA.
A day in the life of a DITA author helps to illustrate how an author would develop a content outline, create topics and write structured content.
Planning for DITA provides insights into how to most effectively plan for DITA and the changes in roles and responsibilities.
Metadata introduces the concepts of metadata, an often overlooked and misunderstood topic, and gives insight into the metadata that DITA supports.
DITA and technology introduces some of the key DITA features of authoring, content management and publishing systems should support.
The advanced stuff demystifies such topics as domains, conrefs, selection attributes, relationship tables, and specialization.
Appendix A and B provide a quick reference to topic elements and prolog metadata respectively.
Appendix C takes you through some of the background of how DITA came into existence.