eBooks 101: The Digital Content Strategy for Reaching Customers Anywhere, Anytime, on Any Device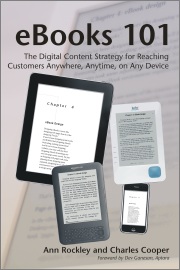 eBooks are very popular and are fast outstripping sales of traditional print books. You know how to create great books, but how do you create great eBooks?
Too much of the information on eBooks today is all about the code and how to create your content in the correct format, be it EPUB or Mobipocket or any other format. But good eBooks, just like printed books, are first and foremost about the content they present and the way in which they present that content in an electronic format. That's what eBooks 101: The Digital Content Strategy for Reaching Customers Anywhere, Anytime, on Any Device is all about.
eBooks 101 focuses on what you need to know about how eBooks differ from print books and about design guidelines that ensure your content works on even the most basic eBook eReader while still producing high quality print books. eBooks 101 also explains how you can move your processes toward a content-centric workflow that enables you to create content that can be automatically published to print, eBook, or eBook app. The topics of this eBook, along with their real-life examples, provide you with a firm foundation of knowledge to help you seamlessly fit the production of eBooks into your production cycles.
Not sure? Want a peek inside? Click here to get an excerpt from Chapter 8, XML: Future proofing your eBook. Please note that this requires Acrobat Reader 6.0 or later.
What you'll find inside...
What is an eBook? What's the difference between a basic eBook, an enhanced eBook and an eBook app? Where eBooks came from, and where they're going.
Understanding eBook formats There are a number of eBook formats. Here's an overview of what exists and where things stand right now.
Understanding eReaders One of the challenges of developing an eBook is the fact that an eBook won't look the same on all eReaders. Learn about the features (as well as the strengths and weakness) of various readers.
eBook Design Designing an eBook is more like designing a web page than it is like designing a book. How does your book design translate to the world of eBooks?
Understanding reuse The need to create more and more content makes "reusing" content crucial. Learn about the best practices developed in several industries.
Understanding structure Structure helps readers find information. It can be simple or complex. What do you need?
Content analysis Before you can convert your existing titles or prepare to publish to eBooks simultaneous to print, you need to complete a thorough analysis of your content.
XML: Future proofing your eBook XML provides a format that allows you to automatically publish to existing eBook formats and composition tools and publish to new formats in the future.
Developing a United Content Strategy A Unified Content Strategy equips you with a repeatable method of identifying all content requirements up front, saving you time and money.
Production Traditionally production is all about print composition. Now production is all about the preparation of content for multiple platforms. Learn how to do it.
Quality Assurance How you make sure that the quality of your book is as good it can be no matter what platform it's read on.