Why we wrote eBooks 101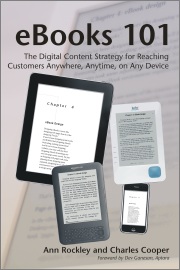 eBooks are very popular and are fast outstripping sales of traditional print books. Yet there is little understanding of how to make a great eBook. eBooks 101 addresses three major areas of concern that we saw when surveying the industry.
File Save As is not Acceptable
Many eBooks are simple conversions of print books with little or no thought to the fact that eBooks are not just print books online. There are lots of tools available now that let you take "print" and push it out as an eBook, but little thought has been given to how to handle some of the features of print that do not transfer well to online such as sidebars, spacing, transitions, images, indexes, etc. In some cases the resulting eBook is at minimum frustrating and sometimes unusable. And even less thought has been given to how to design effectively as an eBook to begin with.
Code vs Content
Too much of the information on eBooks today is all about the code and how to create your content in the correct format, be it EPUB or Mobipocket or any other format. Even with standards like EPUB there are no guidelines for how to prepare an eBook file, but good eBooks, just like printed books, are first and foremost about the content. If you have good content, design the content to take advantage of the medium, and keep your user in mind the final eBook publishing step is manageable. No one was really addressing the issues of designing good content.
Doing it intelligently
eBooks have tended to be an additional delivery channel after print, though some eBooks only are starting to emerge. But you shouldn't be thinking about just the channel, platform or device when you create content. You should be thinking about how to create fabulous content that works well anywhere, anytime and on any device! If Apple came out with a new game changing device today, you want to be able to deliver on it next week. As long as you create content for only one device, you limit the value of our content and make it very costly to change. You need to create modular, structured content that can be delivered in ways only limited by your imagination!
That's why we wrote eBooks 101: The Digital Content Strategy for Reaching Customers Anywhere, Anytime, on Any Device.