Book Reviews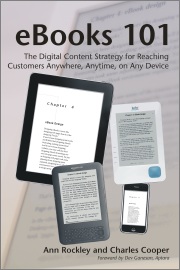 Derek Olson, Vice President, Foraker Labs
eBooks 101: Strategies for Reaching Customers Anywhere, Anytime, on Any Device is a must-read book for anyone looking to future-proof their publishing process. While the book provides a comprehensive overview of eBook publishing, it is a strategic guide as well-encouraging authors and publishers to focus on the most important aspect: the content. This content-first approach is in fact what provides the greatest value in this book: Read it cover-to-cover to quickly get up to speed, and then keep it handy as your go-to reference guide on any topic related to eBook publishing.
Cheryl Landes, STC Fellow and founder of Tabby Cat Communications
Electronic books (eBooks) have grown in popularity during the past five years. With the explosion of mobile device and tablet use, the demand will continue to grow. Despite the growth, there's a lot of confusion and unanswered questions about how to produce and deliver eBooks. Now, single-sourcing documentation gurus Ann Rockley and Charles Cooper have provided some answers in their latest book.
The book is definitely a crash course in the medium. Although the target audiences are traditional publishing houses and companies that produce or distribute large volumes of content but have little or no experience delivering content electronically, their book is well suited for anyone interested in a high-level introduction to eBook publishing.
If you're interested in eBook publishing, a bird's-eye view of single sourcing, or simply want a basic understanding about how the eReaders function, eBooks 101 is an excellent way to immerse yourself.
Paul Perrotta
"Publishing professionals are in for a treat. Do yourself a favor by reading Ann Rockley's and Charles Cooper's authoritative "eBooks 101: The Digital Content Strategy for Reaching Customers Anywhere, Anytime, and on Any Device". This book is meant for anyone who develops, edits, publishes, or maintains content or anyone who works with those who do, including managers, information architects, and IT professionals.
eBooks 101 is a solid introduction to the world of eBooks: what are they? How do they differ from more traditional publications? How difficult is it to produce them? But eBooks 101 doesn't stop there; in fact, Rockley and Cooper use their first-hand knowledge and industry experience to address three broad areas. They introduce terminology and distinguishing characteristics of eBooks and their various forms and formats. They frame the general problem of developing and publishing eBooks within the larger context of traditional publishing. Most importantly, they then propose a methodology for modern publishing, a methodology which includes not only traditional publishing formats but also newer eBook formats as well.
Experienced content professionals recognize that publications are collaborative efforts and that teams of any size need a process to follow. A well-defined workflow is the primary tool to manage the work, and the management of that workflow itself requires an understanding of the fundamental problem of reuse, especially as budgets and schedules shrink. eBooks 101 correctly describes the process of creating and publishing eBooks as no different from that of the traditional publishing process. But how does one integrate the two?
Rockley and Cooper point out that if you understanding reuse and structure, and if you sufficiently analyze the content, you can apply XML publishing technology not only to solve the problem of creating and publishing eBooks, but also any other kind of publication as well.
The analysis of the problem, framed in the context of all publishing, with a proposal for how to address all of the publishing work, is well worth the price of the book. Rarely do all these topics come together in such a straightforward manner.
Of course, this is an introductory treatment of the topics at hand. Whole volumes could be (and have been!) written about content reuse, information structures, XML publishing systems, and so on. Unlike what has come before, this book proposes a compelling methodology for how to understand the component parts of modern publishing, whether for eBooks only or for all the publishing you do."
Scott Abel, Founder and CEO, The Content Wrangler
"Kudos to Ann Rockley and Charles Cooper for distilling decades of experience into a succinct, easy-to-understand, entry-level resource for publishing professionals looking for the most efficient and effective way to create eBooks, apps and other forms of digital content.
eBooks 101: Strategies for Reaching Customers Anywhere, Anytime, on Any Device is a no-nonsense book that explores the importance of putting in place a set of systematic, repeatable processes to optimize the publishing process. The authors spell out what is needed — a unified content strategy — and provide guidance on how to get started. Important topics of note in this volume include: understanding structure, XML publishing, content reuse, device independence, eBook design, tablet computing, smartphones and mobile devices, content standards, and quality assurance. There's also an informative section that defines each types of eBooks (basic, enhanced, app) and explores the differences between them. Highly recommended 'must read' for all publishing professions."
Dev Ganesan, President and CEO, Aptara Corp.
"If you're considering a foray into eBook or app production, eBooks 101: The Digital Content Strategy for Reaching Customers Anywhere, Anytime, on Any Device is the best place to start your journey. Think of it as your go-to reference guide. It contains the secret sauce of eBook production, advice on avoiding pitfalls, device-specific and standard-specific information, design guidance, XML publishing tips, and a best-of-breed approach for creating, managing, and delivering eBooks and apps — in the most efficient way possible."