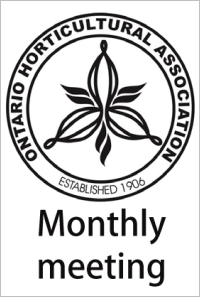 Join us Tuesday, October 24th, at 7:30 pm. in the Schomberg Community Hall, 325 Main St.
Mark Peck from the Royal Ontario Museum will tell us about winter birds in our gardens, and the ongoing Feeder Watch project. We will also be holding our year end Flower Show.
In addition to his duties at the ROM, Mark serves as a committee member and ROM liaison for the Ontario Bird Records Committee, and as a consultant for Ontario Birds/Ontario Field Ornithologists. He is the co-coordinator of the Ontario Nest Records Scheme, Program Director of the Toronto Ornithological Club, and a member of the Canadian Shorebird Science Support Team. We're expecting Mark's presentation to be a fine wrap-up for our yearly meetings!
Meetings are held on the fourth Tuesday of the month from March to June and September to October.
For full information contact Jill Watts Hayward via phone (905-939-2781) or email.