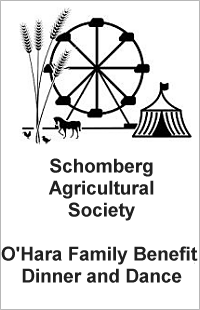 Mike O'Hara is long-time member and now Vice President of the Schomberg Agricultural Society. Most importantly, Mike is a true and loyal friend and member of the farming community.
Mike has been battling a virus for several months which has been attacking his spine and has left him immobile. He has had some help from friends and family with his farm work however, his crop has suffered significantly. We are asking for your help and support in getting Mike out of his wheel chair and back behind the wheel of his tractor.
Join us for our Diamonds and Denim Dinner Dance Benefit on Saturday September 30, 2017.
Roast Beef Dinner, Cash Bar, Live and Silent Auction and so much more!
Schomberg Community Hall
Saturday September 30, 2017
Cocktails at 7:00PM, dinner at 7:30PM
$35.00/ea or $50.00/couple
Please contact Cathy at 905-939-8283 or email us at manager@schombergfair.com for more information or to purchase tickets.
If you can't make the Dinner, please consider donating directly on our GoFundMe page.